5 Most Common Mistakes That Makeup Artists Make
Hello guys, 
I am back with a super exciting post, this time . In my almost 2 decades of experience as a Makeup Artist, I have witnessed a lot of MUAs make these mistakes. This in no way means that I have never committed them but now that I know better, I want you to know better too. Knowledge is meaningless if not shared.
The many training and refresher courses that I have undertaken with notable MUAs like Namrata Soni, Virginia Holmes, Roshar, Alex Box, Jessica Powers, Jillian Lagasse, Shahnaz Hussain among others, have helped me in enhancing my skills and also developing a style of my own. Being the only Makeup Artist in Chandigarh to have worked with international stars like Nargis Fakhri, Kalki Koechlin, Rajkumar Rao and others definitely taught me a lot. Through this post i want to make you aware of the simple things one can check while getting their Professional makeup done. 
These common mistakes aren't huge but they do certainly have an impact on the total look of a client. Once you are aware of these common mistakes, you could definitely get a better final outcome. 
1. Mistake while Contouring -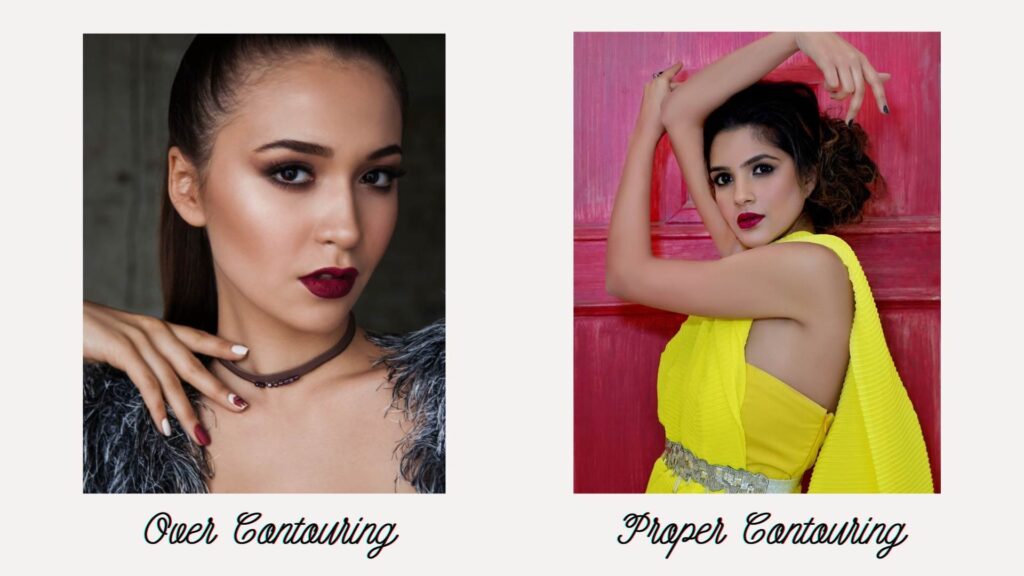 So many famous YouTube MUAs will make you believe that this is the correct way to contour your face. Well, sorry to burst that bubble. The purpose of a contour is to give your cheeks a lifted look. The correct way is to feel your cheek bones, once you have understood the position by feeling the hollow of the cheek, place your contour product with the help of the brush right there and then start blending towards your cheek. 
2. Mistake while Lip Lining -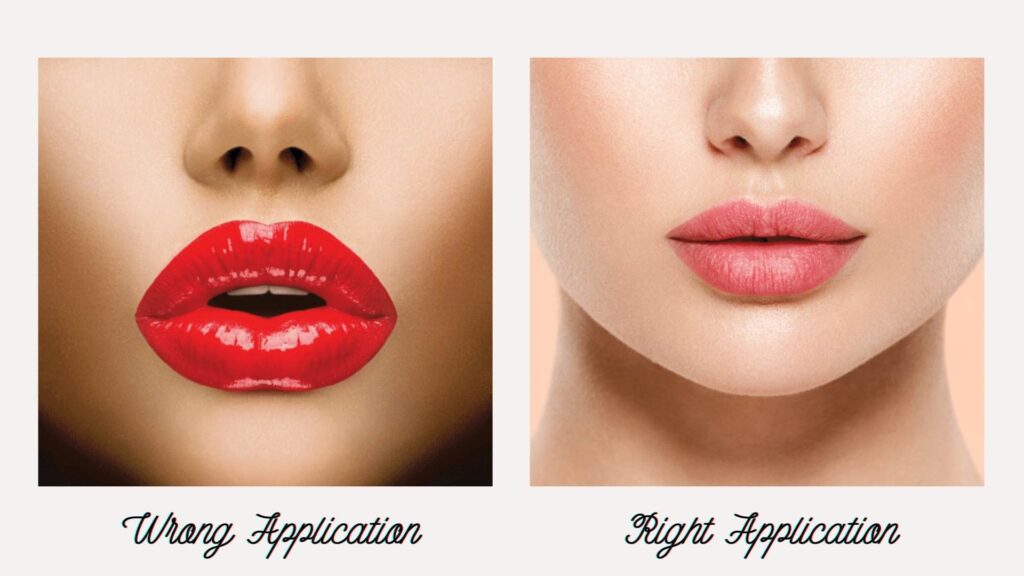 This is the most common mistake made by MUAs to make your lips big. I have nothing against people wanting fuller lips, but at least do it the correct way! The correct way to highlight your lips is to form a line as close to the cupid's bow with a nice lip colour but merge it perfectly at the corner of your lips. A lot of MUAs will create a whole new corner of the mouth which looks absolutely hideous when one starts speaking. 
3. Winging the wrong way -
Very often you'll find a wing that makes the eyes look droopy instead of lifted up. This is because your MUA probably made you close your eyes while applying the eye liner. Actually, an eyeliner, at least the angle of the wing, must be created with the client's eyes open. The eyes above the skin shifts when the eyes are open and close and if your MUA applies the liner with your eyes open, this will ensure that the final look is just as you desire. 
4. Too many colour families together -
The most basic rule of Makeup is to maintain homogeneity of colours on the face. By colours I do not mean red, blue, greens etc. I mean colour tones. A fundamental rule of colour theory is to use either complementing colours or contrasting colours on the face and not mix tones, hues and shades all together. For instance, when using a warm pink toned blusher, prefer to go for eye makeup that is warm in tone like gold/bronze instead of silver/grey etc. 
5. Mistakes with Eyebrows -
Just because the trend features bushy eyebrows should not mean that it can suit all faces and ages. The one rule that I always go by while creating/enhancing brows is to check the face shape, the size of the forehead and the distance between eyebrows. For me harmony and proportions matter a lot. 
So ladies, next time you get your makeup done, do check all of these important points and enjoy getting yourself pampered. Just remember, JUST BECAUSE IT'S ON INSTAGRAM DOESN'T MEAN IT'S GREAT! And do check out more blogs in my Special 5 Series by clicking here.
Hope this was helpful. Follow me on Instagram, Facebook and youtube. 
Cheers!